Just stumbled upon something big here. I knew Prodigy was speaking out when he wrote about 9-11 being a luceferian sacrifice and called Obama a puppet,but on Oct 30th this came out: here is a HUGE expose' on JAYZ who appearently grew up in a masonic darwinistic relgious complex in brooklyn. The video in the second article shows alot of the symbolism we've seen in the past from these individuals but a bit more. There are mentions of NAS being inside on this. Prodigy says in a note he is to "Bury these cockaroaches" and fight them.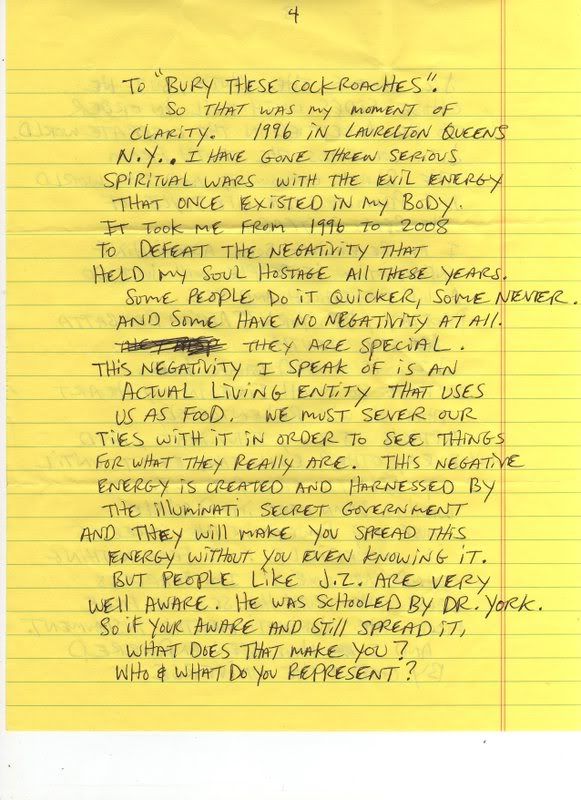 Check this article out:
http://aftermathnews.wordpress.com/2008/11/07/prodigy-says-jay-z-sides-with-the-evil-illuminati/
Prodigy says that Jay grew up grew up in Dr. York's "Nuwabian" community in Brooklyn as a kid, and is "aware" of these evils — rogue government, elitists running the country, etc. (For more on Dr. York, read up here)
Because of Jay'z refusal to speak on the topics Prodigy has been doing so since his incarceration, he will make it a point to wage war against him.
"J.Z is a God damn lie. I have so much fire in my heart that I will relentlessly attack J.Z, Illuminati, and any-every other evil that exists until my lights are put out," P writes.
"This negativity I speak of is an actual living entity that uses us as food. We must sever ties with it in order to see things for what they really are. This negative energy is created and harnessed by the Illuminati secret government and they will make you spread this energy without you even knowing it. But people like J.Z. are very well aware. He was schooled by Dr. York," he continued.
The Nuwaubians originated as a Black Muslim group in New York in the 1970s, and have gone through many changes since. Eventually, the group established a headquarters in Putnam County, Georgia in 1993. The Southern Poverty Law Center has categorized the Nuwaubians as a black supremacist hate group
http://en.wikipedia.org/wiki/Nuwaubianism
Nuwaubianism is said to have borrowed from a wide range of sources which include Theosophy-derived New Age movements such as Astara as well as the Rosicrucians, Freemasonry, the Shriners, the Moorish Science Temple of America, the revisionist Christianity and Islam of Mirza Ghulam Ahmad, the numerology of Rashad Khalifa, the ancient astronaut theories of Zecharia Sitchin, Robert Temple's The Sirius Mystery, J.J. Hurtak's The Keys of Enoch, the works of Richard Shaver (a proponent of the Hollow Earth theory), David Icke, the UFO mythology of greys and reptilians, the political and legal theories of patriot mythology, modern scientific and pseudoscientific legends like those of Area 51, the Philadelphia Experiment, Project Blue Book, Montauk Project, and MJ-12, popular conspiracy theories such as those about the Illuminati or the Bilderberg Group, and even a paperback on fortune-telling.
Grand Master Malachi Z. York, Nuwaubian Grand North Lodge
This appears to be a group of Black individuals whom are social darwinist, nazi like from reading about Nuwaubains. They appear to be a Black version, or arm of the NWO, and are very much into Eugenics:
One version has the "Mongoloid" and "Caucasoid" races descending as inferior mutant versions of the original "Negroes", with the Caucasians suffering from genetic albinism as evidence that they are at "the end of their genes."[18] However, most whites are said to not really be Caucasian, but Negroid Mulattos or "coloreds"; it is only those with blond hair and blue eyes who are Aryan Caucasians.[19]